Translation: Antoine Valenza
Original post: http://www.electro-gn.com/58-reprenezlecontroleaveclefreeplay
A few years ago, some french larpers created the Freeplay League and posted this message on a french blog, which aroused an important controversy. An interview of the Freeplay League was published the week after that. You will see it soon on electro-larp.
—
This is a message from the Freeplay League – we're taking control of this blog!
"What about showing up at this game, dressed as zombies? The players couldn't even find out we're no NPCs. Can you picture the mayhem we could wreck in 5 minutes?"
A few years ago, a discussion about possibly jeopardizing a larp made me realize something: there are a lot of games where I wished a mob of saviours would show up, dressed as zombies.
We don't care for the author's tolerance. What he wrote beforehand is going to get his game started. But after a certain while, when the organizer is nothing left but a small pallid and exhausted chap sitting in a corner, who knows nothing's that's happening anymore, when you've been out of the game for 2 hours and totally lost it, when Smith comes to tell you about the world actually being an orange and that we're its seeds – that is, whenever the starting frame is out of control – then it's time to set things right! That's what Freeplay is all about!
Thwart the larp! Start a zombie attack, become Superman, confess Smith you're his father!
Become a Freeplayer.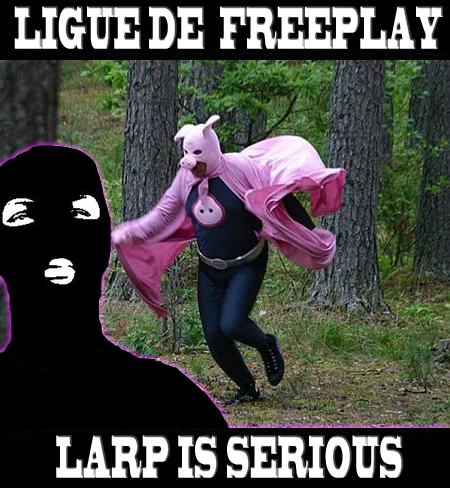 This was a message from the Freeplay League.
Answer the survey and make a choice!