Original post: http://www.electro-gn.com/6189-critique-mad-about-the-boy-partie-1
Translation: Leïla Teteau-Surel

—
Between the 24th to the 30th of June 2013 two sessions of the larp Mad About The Boy were organized in Sweden. A game in which all (except THE boy) the characters are women but which is sometimes run with some men (mixed run). A review of my poor attempt to turn into a woman and of the design of this incredible Nordic Larp.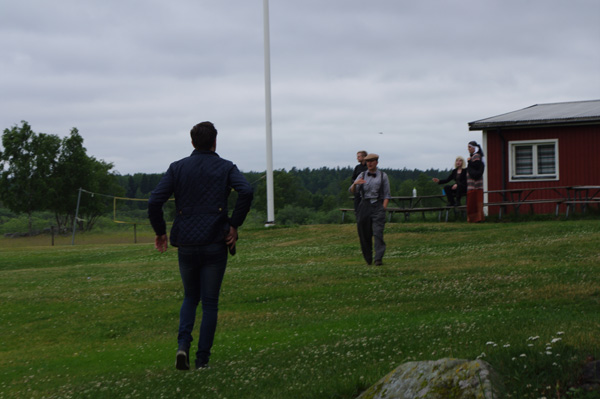 This article is divided into 3 parts. This first part 'll present the context of the game, my preparation and my fears that could be yours if you want to try a Nordic Larp.
Context
On the 24th of June 2013 every individual with a Y chromosome died one after an other in a few minutes, without explanations. The world felt into a period of chaos, many bridges between countries were cut, but three years later, a new world populated exclusively by women begin to be reorganized.
We are in a Nordic country. The government has, logically, placed sperm banks under surveillance and is looking for a way to make a better use of this resource. A pilot program is established : groups of three women will apply to a committee to try to get the permission to carry a child.
The first act of the game is made up of psychological tests, medical examinations and survival tests in a world wilder than ours. If you see me in a bar or at a convention I absolutely have to tell you about my first gynecological exam, which will remain a big larp memory for several years.
The second act – a musical break and a video show the act break- starts with the arrival of a man! A weak and terrorized real man, naked, who apparently survived the disaster.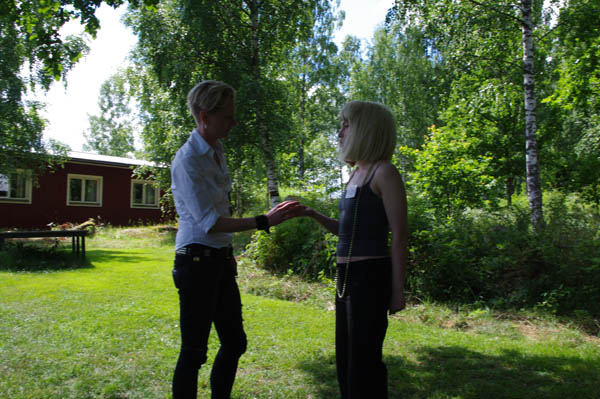 Playing a credible woman
I was skeptical about being able to picture a convincing woman. But also skeptical about the performance of other players. I thought the lack of credibility of the whole thing might prevent me to feel anything.
But as I was determined to play the game thoroughly I took the time to go and buy a baggy pants-skirt, a black top that covers the arms to the elbows and a sports bra I could fill without distorting my chest. Finding a pair of high heels size 43 has certainly been the most complex thing.
My mistake was to depilate my arms in a beauty parlor. Too expensive compared to the depilatory cream and my skin reacts visibly wrong with wax. Welcome to the world where taking care of yourself will take a lot more time.
Throughout the shopping and to my surprise, sellers did not ask too many questions when a man enters a lambda store womenswear to try half the catalog in front of a mirror. Clients even approached me several times for advice. I eventually answered with a confident face that orange works very well with brown pants and yes, she will certainly look thinner in these pants, which makes me laugh when you know my taste for fashion.
I also spent time with a friend to work on my gait, the position of my shoulders, hips, arms, the way I smoke and talk.
And I'm not the only one making an effort. I found the men all pretty convincing, so much that when in the morning 7 hairy men were in communal showers in women's underwear, one finishing his make up, the other still shaving his mustache, I think I can say that I was still "in the game" without too much difficulty.
So yes, I mixed pronouns at first, slipping here and there a "he" to refer to a female character but I'd also blame the English that I don't master and which was the language used in this game.

Playing in English
I'd like the paragraph below to reassure those who are afraid to play in English. With these few words I'd like to say you can do it. I know that because I am a terrible English speaker. In order to practice your English : come and play in a Nordic country and you will see that it 'll be more effective than watching Game of Thrones without subtitles.
When I thought about the game, in which I 'd have to interpret a 36 years old woman, a practicing Muslim and a doctor from Iran, the main reason of stress remained the English. I can make myself understood in English in general. I'm not shy and when facing Nordic people, used to an international English and mastering perfectly the language of Shakespeare, it's still possible to have some interesting discussions. But I also knew the gap that 'd separate my larping experience in French from this one. Let me be clear, I do not claim to be the best player in the world, but I am comfortable when speaking and comfortable when I play in French. I can think about the metagame, be attentive to others, to the story, and speak at the same time to a crowd if necessary. In English it's different. How to find the right words? How to react quickly when necessary? How to be fun?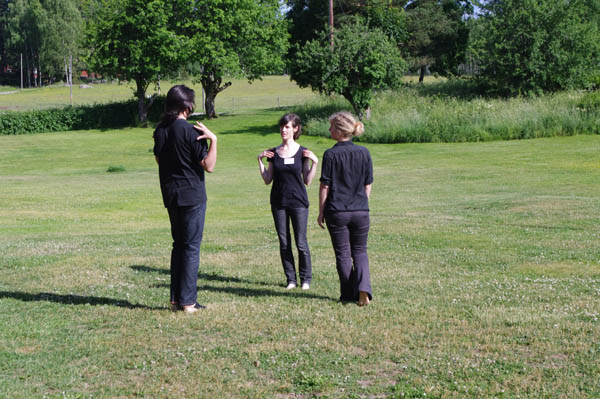 And finally -you guessed it- my fears disappeared within a few hours. I managed to say a lot with simple sentences and when words are not enough, there is the body language. I cherish the memory of a scene when I tried to convince one of my friends (in the game) not to leave the program and not giving up on having a child. I finally felt that my English wasn't enough. Difficult to find the right words. So I decided to ask her to close her eyes and I slipped a pillow under her dress. We were holding his belly in our hands. A very intense moment of play that the French 'd have deprived me. When the language is effective in all circumstances acting become less necessary.
In the second part of this article we 'll stop talking about me, me & me to talk about the game design, the workshops, and the issue of transparency in a larp. You will also learn more about the role of Isaac, the survivor man who arrives at the beginning of Act 2-.